Zimmerman Murals
The Zimmerman Library is listed in the National Register of Historic Places under the Architectural Classification - Late 19th and Early 20th Century Revivals: Mission/Spanish Colonial Revival. The four-panel Kenneth Adams mural Three Peoples is included as a "contributing object" to the Zimmerman Library building" (Sisneros 2020). However, the Adams mural has been controversial since its installation. In subsequent eras, students, staff, and faculty have lodged multiple complaints and protests against the mural (initially, in 1970s, 1993-95, and throughout the 2000s/2010s until today). Most recently, a Zimmerman Mural Planning Committee and Course made recommendations on how to address the nearly 8 decades of protest concerning the offensive content within the mural. Final recommendations were provided to the Provost and President in 2018.
Zimmerman Library is on the National Register of Historic Places (as per US Dept of Interior, National Park Service). This requires State Historical Preservation Officeapproval before we can make changes to permanent aspects of the building. 
Zimmerman Murals
Occlusion Timeline
Proposal to UNM HISTORIC PRESERVATION COMMITTEE (HPC) for review to install FlexShade® motorized retractable covers to protect, display and cover the Kenneth Adams Murals that are on permanent display in Zimmerman Library. Revisions requested and submitted 13 August 2020.
UNM HPC provided an endorsement and 17 August 2020, proposal was sent to the State Historical Preservation Office (SHPO). SHPO can rule as an "adverse effect" which can prolong things substantially or they can rule "no adverse effect", which would allow us to proceed.
State Historical Preservation Office review time frame is up to 30 days.
Implementation of proposed plan – ASAP with construction time of about a week.
A temporary shade was installed during the 2021 spring semester. Image below.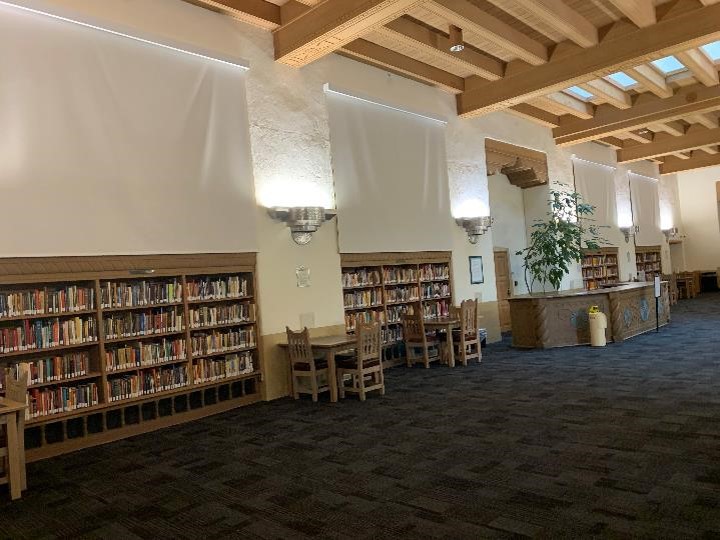 Suggested sources:
Sisneros, Samuel. Student Activism and the Three Peoples Paintings Challenging Settler Mythology at the University of New Mexico. Aztlán: A Journal of Chicano Studies44:1 Spring 2019
Sisneros, Samuel E. "The Zimmerman Library Mural in the National Register of Historic Places: A Working Paper and Timeline." (2020). https://digitalrepository.unm.edu/ulls_fsp/143